PEGASUS Systems
is a small, flexible company with strong advice.
is solution-oriented due to years of experience and specialist knowledge in electronics and lighting technology.
takes his time and responds to every customer request, even after assembly.
provides competent advice on the topics of energy efficiency and the health aspect of light.
specializes in developing tailor-made customer solutions.
draws plans in advance or works with special lighting planning software.
wants your customers to come back.
assembles the electronics of its own workshop in Vienna Liesing with local staff.
is therefore more independent of sub-suppliers and faster than them.
repairs all types of lights and converts them to LEDs.
Through our complete LED portfolio we create rays of light in all conceivable areas of application, such as in your rooms, whether wall, ceiling, floor in wet or dry areas Indoor or outdoor in your garden or your glass facade.
We steer with ours specially developed and in-house produced LED DMX drivers and DMX lighting control panels any light color in all RAL colors, remote-controlled or via your mobile phone app, with presence sensor and LAN network connection.
We give up on our drivers and light control panels 10 year guarantee !
We light up every LED on that LED strip individually according to customer requirements, e.g. to let your company logo or video shine.
We adapt and design your LED lighting every space and environment requirement . We stage and design the right light for you.
We are at your disposal with help and advice from the start of the project until after installation. And that too fair prices .
With our spectrometer we analyze the actual condition of your lighting during the consultation. How much lux hits your desk or kitchen worktop, does the existing lighting flicker?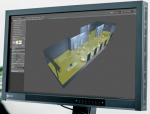 We are lighting designers and create energy- efficient, innovative and healthy lighting concepts with your desired lighting or LED lighting tailored to your needs on a photorealistic basis (see photo special software for lighting designers).
We have many designer lighting companies (see under Light Solutions: Zuma Line, Calex Gigant LED, …) in our program, according to your ideas and space.
We calculate your electricity cost savings when switching to LED and help you with the Submission of grants on the subject of indoor and outdoor lighting.
We manage your new lighting project (project management) and offer maintenance work for your lighting system (light contracting).
We offer our LED portfolio to everyone End customers, home designers and also partners like Electricians, architects , … to – everyone who wants to bring new light into their environment.
We swap or assemble LED panels on / in your ceiling, wall in the office or leave your furniture for example LED profiles illuminate.
We replace your energy-guzzling light bulbs, fluorescent tubes, energy-saving lamps with LED retrofit lamps (bulbs, spots, tubes).
We backlight any translucent material such as stones (e.g. onyx), glass, plexiglass or luminous ceilings, walls, Corian , no matter what the dimension.
We don't just offer you one full range of LED products including high quality power supplies (IP20 or IP67), IR remote control and mobile phone app (SmartHome automation, too KNX solutions ), but also an academically sound advice and up to electrical installation of the LED lighting system by our own employees (depending on the scope by partner electricians). DI Dr. Christian Brunner has the electrician license.
We rebuild, maintain and repair the entire range of lights , lamps and chandeliers, whether LED or antique. We attach particular importance to fast and uncomplicated service.
see high end audio:
We also offer you self-developed and produced High end audio Components or also Customized design like prints for e.g. 3D printer – everything made in Liesing /Vienna, Austria. We are happy to design the right hardware for your customer-specific design, e.g. that casing for the phono preamplifier or your remote control.