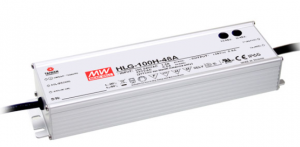 LED power supply (dimmable and non-dimmable):
Our power supplies from Meanwell are intended for LED lighting applications indoors and outdoors or for wet areas (IP67). Both the output voltage and the current limit can be set using an internal potentiometer. They have an aluminum housing, a universal input, a built-in PFC circuit and are protected against short circuit, overload by current limitation (auto recovery) and overvoltage. We offer all types of services (mostly between 100W and 240W) according to your LED lighting requirements. We also offer power supplies from TDK Lambda, which are suitable for dry indoor areas (IP2o). We purchase these power supplies from less than 15W to greater than 300W, depending on the required power of your LED lighting solution.
RGB-W touching control (4 channel = for all 4 colors) for fixed installation in the wall for simple LED lighting systems without remote control instead of our greenCTRL. This high-end RGB-W controller is suitable for all types of LED loads (LED strips, panels, …) to adjust the brightness and color shades via the easily rotatable color ring. Up to 6 light scenes can be saved. The Touching Controll is available in white and black and can easily be built into a wall.
Various LED dimmers with / without IR remote control for fixed installation in the wall – instead of our greenCTRL
24 key IR remote control:
The IR remote control is ideal as a complement to ours greenCTRL to operate your lighting moods, brightness and color shades remotely. This IR remote control was specially designed by us for the greenCTRL decrypted and programmed according to customer requirements. It's up to 6 lighting moods programmable and each RGB can also be mixed with W. All light status changes are time-controlled and thread slowly on or off. The attendance time (the Active timer mode ) for the im greenCTRL built-in PIR can be set individually from 0 to 9 minutes via our IR remote control. The dimensions of the IR remote control are: L84xW52mm.
PEGASUS Systems remote control:
If you have a Unique for any kind of IR controlled system as your LED lighting or your audio system would like, PEGASUS Systems designs and builds it for you. Here as an example an IR remote control without a housing for your audio system.
Silicone hose for LED strip:
Do you want ours LED strips (IP20) for outdoor use, then the waterproof silicone hose (with threaded wire, IP65) is the right protection. Or you prefer our IP65 / 66 LED strips.
Various PIR motion or presence detectors:
In addition to our range of lamps and luminaires, we offer PIR sensors (preferably from Esylux) that monitor your presence in your premises> 12m and a recognition angle of 90 ° to 360 ° exhibit.
Light control app:
Our app is for artNET and DMX Applications that have functions for controlling your lighting system for your tablet, PC or mobile phone – such as the touching control mentioned above. We offer KNX Smart Home Solutions.
ComBine adapter board d (see also under LED Strips / Tiles):
This one developed by us Print serves to facilitate the flat structures of LED strips. Troublesome soldering of the individual wires is no longer necessary. By eliminating the wires, the functional and operational safety is significantly increased.
We would be happy to send you our current price list and data sheets for our LED accessories.